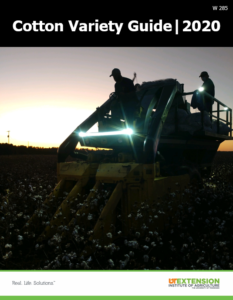 The 2020 TN Cotton Variety Guide is now available online.  This preliminary report serves as a precursor to the complete Variety Trial Results which will be published after the remaining samples have been ginned and classed. Summary tables from the 2019 season were calculated from five Official Variety Trials (OVTs) and nine County Standard Trials (CSTs) scattered throughout TN's cotton producing counties.  To access the document click the adjacent image or the hyperlinks above or below.
2020 TN Cotton Variety Guide (W285)
Special thanks to all those who participated and/or contributed to the program during the 2019 growing season.