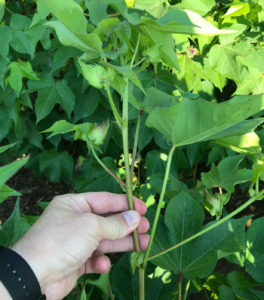 Several deep silt loam fields I've walked this week are a little ahead of management; the internode between the 4th and 5th nodes down from the top of many plant has already stretched beyond 3 inches, and with the rains moving through the area this week, I suspect the upper internodes will likely continue to grow longer than desired.  Many of these acres have already received their first shot of PGR, but we weren't aggressive enough with that application to properly regulate growth.  In this article, I cover a few thoughts on bringing these acres back into check without negatively impacting yields.
How did we get here?
In order to understand why we've been a little too conservative with rate, we should take a look back at June.  June was cool and dry for most of Tennessee.  As I mentioned a few weeks ago, these conditions are ideal for a pre-squaring or squaring cotton crop.  Cotton roots will proliferate where water or certain nutrients (notably, Nitrogen (N)) are available.  Since the upper surface of the profile was dry through June, the plant focused on seeking moisture deeper in the profile.  Furthermore, since much of our acreage received a broadcast application of N but did not, through June, receive rainfall events large enough to move that fertilizer into the effective rooting zone, the plant also drove root growth deeper to seek out available N throughout the profile. Near-optimal high and low temperatures resulted in few resources wasted to high humidity or excessive nighttime temperatures.  All of these factors accrued into a very well-rooted crop ready for July.  My proof- try pulling a plant up this year.  Unless it is wet, many will require two hands.
When rain did begin to fall, it brought with it N, and vegetative growth has feverishly responded. These plants are using this robust root system to draw water, N and other nutrients from the soil to support rapid vegetative growth.  A slightly more aggressive application of a PGR may be required to maximize reproductive growth.
What should we do about it?
Rate
On very aggressive varieties planted into strong ground with a favorable forecast, my first application, applied during squaring, is often an ounce per node of a 4.2% mepiquat chloride product.  Follow-up applications may exceed 1.4 ounces per node if the internode between the fourth and fifth node continues to elongate beyond 3″.   I do not run rates greater than 24 oz in a single application.
Timing
Timings of follow-up applications are often 7-14 days after the previous  applications. On aggressively growing acres, the best approach to get ahead is to shorten this timing between applications, down to as little as 7 days.  Watc
Product
In most situations, I've been able to get runaway acres back in check with two sequential applications of a straight mepiquat chloride product.  In only the most aggressively growing varieties in the most aggressively growing situations, I occasionally will spike a follow-up 16oz application of a 4.2% mepiquat chloride product with 2oz of Stance.
Closing thoughts
We aren't into 'rank' cotton yet, but in order to prevent that we need to act quickly.  Many acres are already close to 18+ nodes.  I would seriously consider applying stiff rates to these acres as soon as possible.  Don't forget to adjust rate by variety- please refer to the PGR classification table the MidSouth Cotton Specialists' Working Group published earlier today.  Keep in mind the jump in plant growth has been particularly aggressive in areas where plant bugs slipped-in early to remove many first position fruit low on the plant.  Those acres will require very aggressive approaches with short timing intervals.