As general rule, no-till production increases the risks from pests including slugs, cutworm, threecornered alfalfa hopper and several below ground pests such as wireworm and southern corn rootworm. Tillage is not an option in most of Tennessee's agricultural landscape. This leads entomologists to recommend spring "burndown" applications 4 weeks in advance of planting. The goal is to "break the green bridge" or eliminate alternative hosts (weeds, cover crops) well before planting the cash crop.
However, making burndown applications 4 weeks prior to planting isn't always possible or it doesn't align with the goals of having cover crops. One way to help mitigate potential insect issues in late burndown is to add a pyrethroid insecticide with your herbicide application or within 7 days of planting. Beware blooming and pollinator attractive cover crops (vetch, brassica species) may have foraging honey bees and pyrethroids should not be utilized until the plants are not longer attractive to pollinators (desiccated or senescing from herbicides).
Utilizing insecticide seed treatments will offer protection against pest insects that may feed on your cash crop. If you are planting green (not burning down cover crops until after planting) I highly recommend a robust insecticide seed treatment and a pyrethroid insecticide that is included with the burndown herbicide. In corn this would be Poncho 500 or 1250, in soybeans Gaucho or Cruiser treated seed and in cotton Gaucho or Aeris based treatments will offer adequate protection from most below ground and some above ground pests. Keep in mind, seed treatment residual activity is strongly influenced by environmental factors, plant growth and amount of AI on the seed.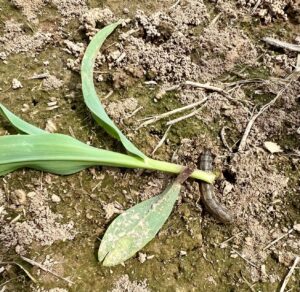 Cutworms in corn and cotton are uncommon but can be a serious pest. Pyrethroid applications within a week of planting will significantly reduce the risks of cutworm issues at low cost. Insecticide seed treatments are normally not enough to control cutworms and Bt traits in corn and cotton can offer mixed results depending on the traits. Three gene corn and cotton (those that include the Vip trait) provide better cutworm control than dual gene corn and cotton (V2TP, BG2 etc).
Overall, I like to see farmers planting in grave yard dead fields of weeds or cover crops but that isn't always the case. Providing protection for your cash crop, at a relatively low expense, may help avoid the painful and costly decision to replant.