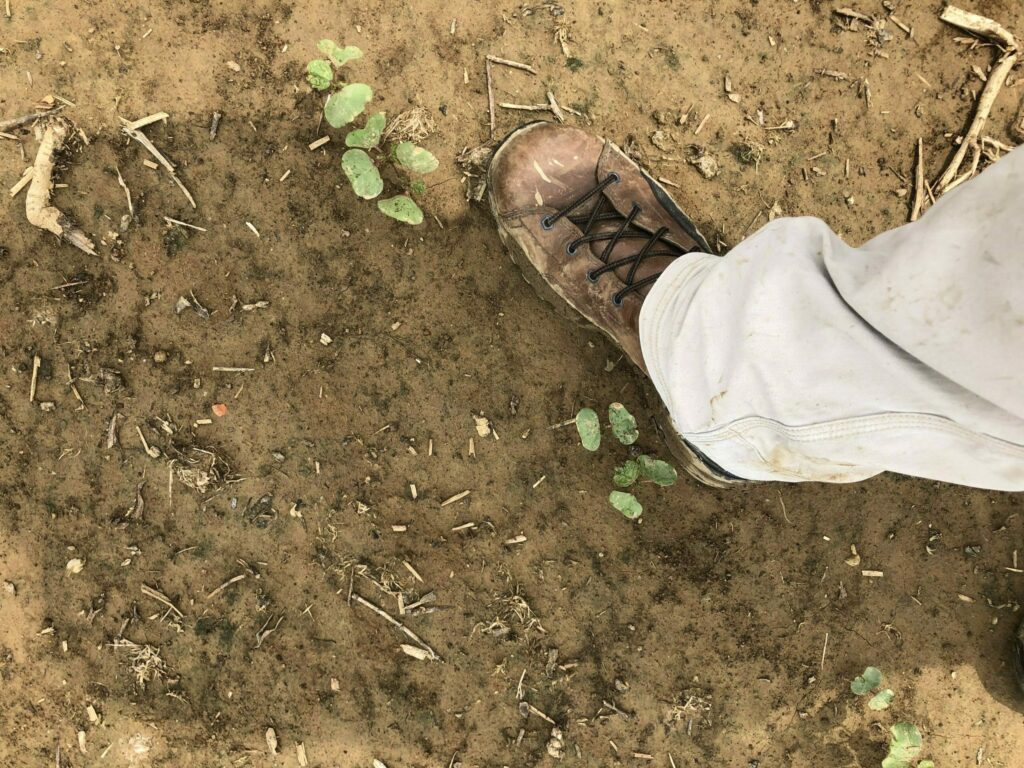 Large rainfall events and cool weather in late May strained Tennessee's cotton crop.  In some areas, individuals are considering replanting cotton that failed to emerge or cotton that appears to be just sitting.  In other areas, reports of damaged or desiccated cotyledons have been reported and healthy, large cotyledons are hard to find most anywhere. In this blog, I cover a few rules of thumb to consider when determining whether or not to keep the stand and give a few words of advice to those that are considering May 30-something cotton.
ASSESSING STANDS
I covered the basics of assessing stands in a blog a few weeks ago and also linked to several publications which cover the decision in great detail.  Review that article if you have questions on yield potential of the current stand compared to the yield potential of the replant.  There are several different methods to gauging a stand but my favorite is to walk in a diagonal to the direction of the rows and use my boot as a 12″ ruler.  On 38″ rows, one plant per boot is approximately 14,000 plants per acre, 2 plants per boot is approximately 27,5000 plants per acre, 3 plants per boot is 41,000 plants per acre.  Keep in mind that rowing cotton from the windshield in cloudy weather will almost always make you want to replant- often unnecessarily.  Count plants instead.
After you make the count, estimate yield potential relative to a replant.  Again, more on that in a recent replant publicaiton– but keep in mind that today is June 2nd, and many areas are too wet to replant at the moment.  There are a thousand caveats and conditions but it basically boils down to this today-  if you have 1) a minimum of 1 plant per row foot with a healthy meristem and root and 2) few adjacent skips greater than 3ft in length, I would keep the stand.  Based on that rule, most of the farms I've walked recently will only benefit from spot plants where water ran.
BACKGROUND on COTTON COTYLEDONS
A brief review on seedling growth and development- specifically the role of the cotyledons- is warranted.  Cotyledons provide energy to the young plant in two ways.  The first source of energy provided by a cotyledon is translocation of energy which has been in reserve- energy which was stored in the seed, provided by the parent plant.  The second source of energy is photosynthate captured by the cotyledon and translocated to the  young plant.
Research studies determining the value of cotyledons to seedling growth and ultimately lint yield potential often come up with different conclusions.  You can read more about specific approaches and outcomes by reviewing some of the articles I have linked below.  Although each approach is different and results can vary, there are two main points on which I believe most researchers would agree.  First, a healthy plant (root/stem/growing point) can reach 100% yield potential with some damage to a cotyledon- occasionally, even complete removal of one cotyledon immediately after emergence.  Second, the value of the cotyledon declines over time.
APPLICATION in 2022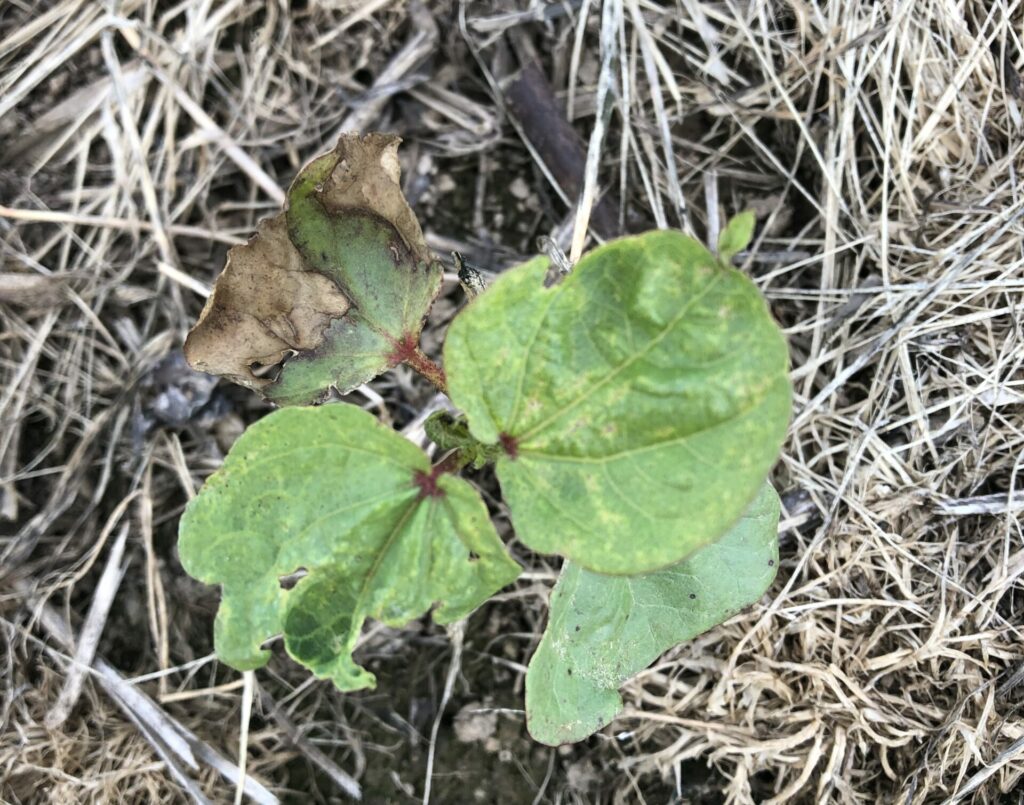 Several have recently reported damage or desiccation to cotyledons.  I've included an image of that above.  While I would prefer the cotyledons to be large, dark green and healthy, I am not overly concerned with the damage I've observed, especially on plants that have the first true leaf expanding with a second close behind.  Cotyledons on those plants have already provided much of there energy reserves to the young seedling; the first and second true leaf can now serve as the main source of energy.  Note that the damage above doesn't appear to be from an herbicide.  We may disagree on the causal agent but in my opinion the injury observed above is likely environmental; the plant has scavenged all of the resources out of the cotyledon and has decided the best use of resources is in new growth and not maintenance of cotyledons under the low light, cool temperatures associated with last week.  Part of the reason I'm leaning to environment and not herbicide is I've received several reports  of this type of injury in areas which haven't received any herbicides since burndown.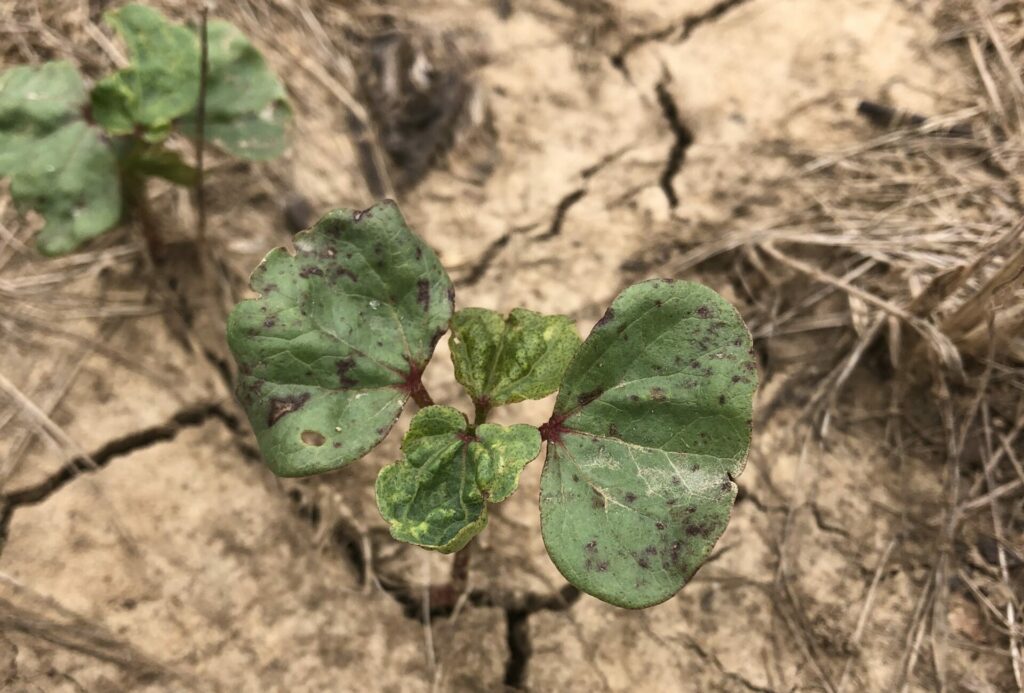 Others have reported Ascochyta-like symptoms, or wet-weather blight, on either cotyledons or true leaves.  Ascochyta will show up as small lesions on the plant with dark borders.  A couple of things should be considered here- first, Ascochyta rarely causes yield penalties and it isn't going to kill a young plant; the disease is most often characterized as cosmetic and no fungicide is warranted- it is simply a function of the weather we had last week (cool, cloudy and wet).  Most notably, the cure-all to restore the plant to 100% yield potential is a solid dose of sunshine.  For those that have acres that recently emerged and appear to have very small cotyledons with a purple hue that are just sitting- I would strongly urge you to wait until we have had a few days of sunshine before throwing in the towel and moving to replant.  Again, we just need a solid dose of sunshine.
TAKE HOME
The first week of May was a cotton week.  The last week in May wasn't.  After cloudy, cool, wet conditions, plants will likely look crummy.  Still, if you have 1) a minimum of 1 plant per row foot with a healthy meristem and root and 2) few adjacent skips greater than 3ft in length, a replant will likely not increase your yield at the end of the year.
One last point- wheat is turning fast and thrips appear to be bad this year.  Take a look at Dr. Sebe Brown's recent post on how best to address them.  If you are stuck with acephate, you'll likely be disappointed with less than a half pound rate.
For those that would like to read more about the role of cotyledons in cotton growth and development, check out these publications:
https://acsess.onlinelibrary.wiley.com/doi/epdf/10.2135/cropsci2008.01.0063
https://www.jstor.org/stable/2441731?seq=2