In the past month, I've had the opportunity to walk several excellent fields that will likely be defoliated in September and many of our later planted acres have narrowed the maturity gap despite the weather continuing to fall below our 30 year average for heat unit accumulation.  On farm visits throughout this summer, I often found myself repeating the old verbiage about 'cotton knowing how long it has left in the season'- half to provide a positive outlook on the crop, and half to convince myself that some of this top crop had a chance.   We still have a ways to go, but in the last few weeks, that saying about cotton knowing where it is in the season again appears to be true. In this blog, I share a few last-minute management thoughts, make a few comments about defoliating some of our earliest cotton, and highlight a field day coming up next Monday, Sept. 13th in Fayette County.
2021 Heat Unit Accumulation
Static, predictive models often fall short in their ability to describe living organisms.  I believe there is value in looking at heat units, but when it comes down to it, many other factors also influence crop maturity.   The stress we endured in early June pushed many acres into 3-4 weeks behind our 'normal' year, and we have continued to trail behind our 30 year average accumulated heat unit trends.  Even with lower than normal temperatures, this crop has narrowed the gap; many of our earliest planted acres are quickly approaching their first shot of defoliation, with the majority of our acres only appearing to be 10-14 days behind where we would normally expect them to be.
I've updated the two heat unit graphs below I shared earlier this year with data up to Sept. 6th.  Again, the top panel is accumulated heat units observed at the West Tennessee Research and Education Center, graphed by year, assuming a May 15th planting date.  Note I've plotted accumulated heat units by Days After Planting; day 0 is May 15th, day 50 is July 4th, day 100 is August 23rd and day 150 is October 12th. In order to capture deviance from the 30 year average accumulated heat unit curve, I've subtracted the observed heat unit accumulations for each of the past six years from the 30 year average, calculated from 1980 to 2010.  Those figures are graphed in the bottom panel. You can clearly see from these two graphs that we are still ~50 heat units behind 'normal', as of Sept. 6th. The cool nighttime temperatures over the past few nights have definitely widened this gap.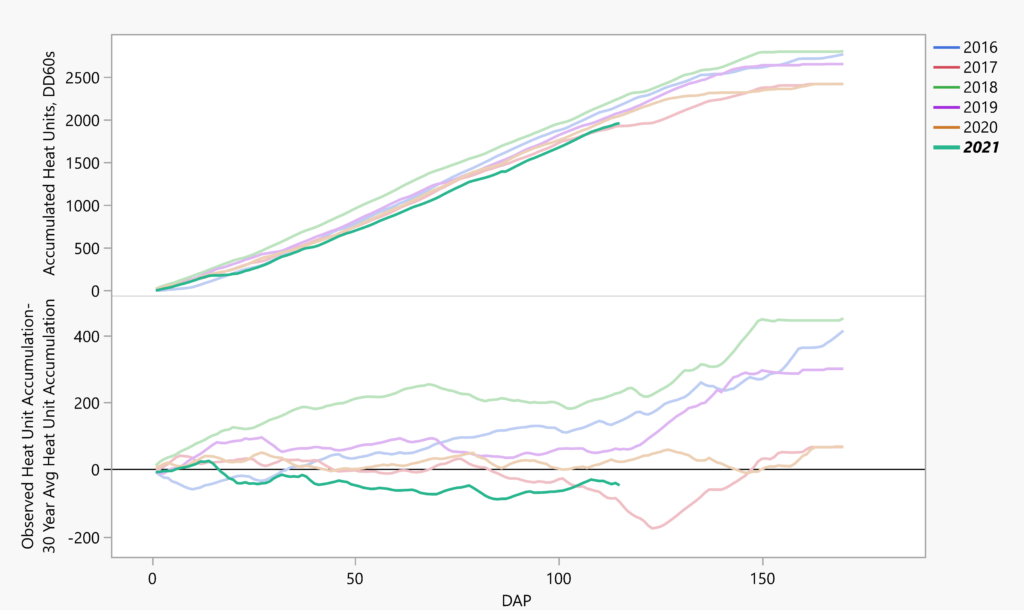 Insecticide Terminations
Several have called recently to ask if we should continue to manage insect pests in even our latest planted acres.  Dr. Scott Stewart shared a little insight on this during the Cotton Tour last week, and we again discussed the topic yesterday; at this point (Sept. 9th), we are safe to walk away from almost everything but extreme levels of infestation- which have been far and few between, in recent weeks.  At this point, insecticide termination is more about the amount of heat remaining in the season than the crop status; the likelihood of for bolls that are still susceptible to plant bugs, stink bugs or bollworms making the basket is very low.  As a result, your return on investment for treating these pests will also likely be very low.
Defoliation Timing
I've been very happy to field a few questions lately on defoliation for our earliest planted acres- including product, rate and timing.  While nighttime temperatures have recently dipped into the upper 50s, my mix for applications next week still consists of a stout rate of thidiazuron, low rates of tribufos and a good shot of boll opener.  Clear days with high temperatures in the mid to upper 80s will keep the thidiazuron in my mix for the foreseeable future.  As we dip into the mid to low 50s with highs in the upper 70s or cloudy conditions begin to dominate the forecast, I'll drop thidiazuron and increase my rate of tribufos.  Most acres I've walked appear to be two shot acres, with very few exceptions.  If thidiazuron is the backbone of the first shot, my second shot would be heavy tribufos with ethephon to target mainstem or subtending leaves low on the plant- often referred to as the skirt.   If juvenile growth is present after the first shot, I'd swap the tribufos in the second shot out for a PPO.
Field Day Monday Sept 13th behind Oak Grove Gin in Fayette County; 7:30AM
This coming Monday, Sept. 13th, we will have a field day behind Oak Grove Gin in Fayette County.  Details for the event are included below.  During the event, we will discuss variety characteristics present in the 2021 County Standardized Test and visit on defoliation strategies.  This is a laid-back, low-key event- details on the event are included below.  Feel free to reach out to Mr. Jeff Via or the Fayette County Extension Office if you would like more information, and expect to hear about several other events to be scheduled around defoliation as we move into late September.