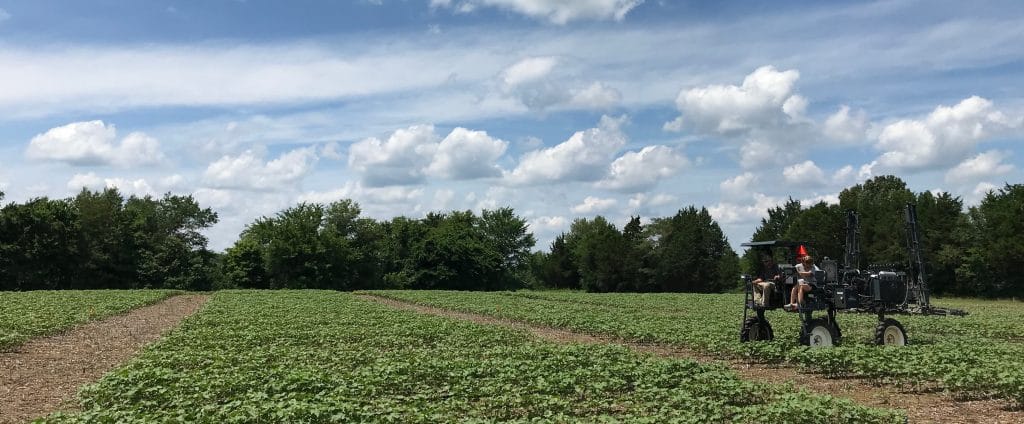 This blog article covers a few things to keep in mind while managing cotton growth during the 2019 season.
Reports of scattered blooms are trickling in from April planted cotton and we are on-track to have much of the early May planted cotton blooming by July 4th.  I've been fielding calls on PGR use over the past several weeks, and while much of our latest planted cotton (May 20th on) has likely not received a PGR application yet, most all of the cotton planted in late April and early May should have already received the first application.  I've found myself recently talking about rates at early growth stages that I would have likely never uttered years ago.  Why?  In my opinion, three things have changed.
First, we are at the next level concerning varieties.  Yield potentials have steadily increased.  Many of these cultivars are less sensitive to plant growth regulator applications.  A few have the ability to carry a phenomenal boll load and still find resources to support excessive vegetative growth.  If not checked early, slowing some of these varieties down will be near-impossible.
Second, when the environment cooperates, our current production system results in less stress on the plant than ever before.  Historically, we've banged-up cotton with a variety of herbicides.  Many products we used to apply stressed young plants and thereby slowed/stunted growth.  Although we still apply some herbicides that elicit a crop response, it is muted compared to several of the products we used in the past.
Third, I believe we have seen a general delay in the timing of the first application.  Years ago, PGRs were expensive.  Applications consisted of low rates starting early.  As herbicide resistance developed and the price of PGRs decreased, applications moved to later dates in the season.
I mention these changes because I've been asked numerous times why PGRs don't work 'quite like they used to' or if the current 4.2% mepiquat chloride products have been watered down.  I believe the reduced response is often a factor of the listed three reasons: stronger varieties, reduced stress in the system, and a delayed timing of the first application.
So how should you manage growth? Start with a backbone program of a 6-12 oz application during squaring, a 12-16 oz application during the first weeks of flowering, and a 16-20 oz application 2-3 weeks later. If you've had trouble managing growth, start earlier with a greater rate and allow less time to pass between applications.  Don't forget- our label only allows 48 oz/ac with a standard 4.2% mepiquat chloride product. Increasing the rate and applying at an earlier period in the season will result in greater height control.
Other items to consider:
Know your variety before making aggressive applications; a few of our varieties still classify as very responsive.
Has rain suddenly vanished from the forecast?  Slide rate down or delay the application-aggressive applications prior to drought can negatively impact yields.
Have additional questions? Reach out to your local extension agent- we will be happy to help.