All week we have discussed UTIA's latest research on low-volatile dicamba formulations.  We will end this series of blog posts with one of the first questions asked by TN soybean producers: Does adding glyphosate to low-volatile dicamba formulations increase its chances of moving outside the treated field via volatility?
In order to answer this question, Dr. Tom Mueller initiated humidome research where soil in flats were treated with either XtendiMax or XtendiMax + Roundup PowerMax at a remote location. They were then carried into a greenhouse and covered in a plastic humidome.  Dicamba emissions were monitored for 60 hours.  Adding glyphosate to XtendiMax increased detectable dicamba emissions by about 3 to 9 times compared to XtendiMax alone across the temperature ranges examined. It was also found that dicamba emissions appear related to ambient temperature, with more dicamba detected as the temperature increased. There also appeared to be a minimum temperature of 59°F where dicamba emissions decreased to low levels.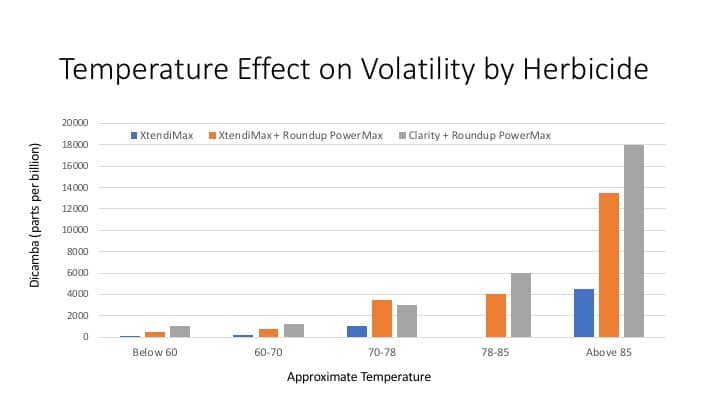 That dicamba volatility increases with increasing temperatures is consistent with previous research and, in fact, is not new.  Research going back to as early as 1979 showed similar results.  However, this research suggests that even the new low-volatile dicamba formulations are not immune to increased temperature driving volatility.
This research along with similar research findings from weed scientists from other Land Grant Universities led the University of Tennessee weed manual committee to make the following recommendations in the 2019 Tennessee Weed Control Manual PB1580. "UT research suggests that dicamba-based herbicides are more prone to off-target movement as air temperature increases. Therefore, best management practices to minimize drift are to only apply if the expected high temperature of the day is less than 85° or before June 15 whichever is more restrictive. UT research also indicates that tankmixing glyphosate with these low-volatile dicamba formulations will lower the solution pH which can result in increased dicamba emissions."