Dear Colleagues
The University of Tennessee Weed Tour will be held Wednesday, June 22 at the West Tennessee Research & Education Center in Jackson, TN (605 Airways Blvd).  Registration will start at 8:30 A.M. and the tour will begin at 9:00 A.M.  It will end about 11:30. We will have breakfast biscuits available before the tour starts.
This guided tour will cover 60 weed management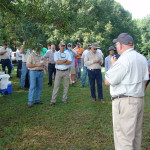 research tests in corn, soybean and cotton.  Most of the research shown will be on management of glyphosate resistant horseweed and Palmer amaranth.  Management of these weeds in Liberty, glyphosate, Xtend and Enlist weed control systems along with some of the new herbicide technology traits on the horizon in cotton and soybeans will be highlighted. Also some strategies to manage the increasing problem with glyphosate-resistant grass species as well as glyphosate/PPO resistant Palmer amaranth will be discussed.
Moreover, cultural weed control practices and many of the newer premixes in corn and soybean will be demonstrated.   UT personnel will lead the tour and be available for consultation as well as discussion of issues and product performance.
Hope to see you there,
Larry