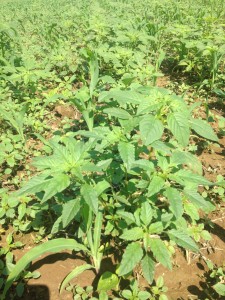 Corn planting is winding down. A good bit of the early April planted corn will need to be sprayed POST shortly.  However, the wet weather in the forecast for the next week will likely make for a narrow window to get these fields sprayed timely.    As a result, there is likely to be some good size Palmer amaranth up in some corn fields by the time we can get back into spray.
A common question is how large a pigweed will the popular layby premixes Halex GT, Capreno or Realm Q control?  All three of those herbicides are a bleaching based herbicide premix.  The bleaching herbicide in Capreno is Laudis. The bleaching herbicide in Halex GT and Realm Q is Callisto.  Those herbicides can effectively control Palmer up to 4" tall depending upon rate. When Palmer becomes larger than that a tankmix partner is needed for consistent control. The most commonly used tankmix partner is atrazine.  When atrazine is tankmixed in with one of those herbicide premixes mentioned above considerably larger Palmer can be controlled.  However, atrazine can only be used on corn up to 12" tall.  What about large Palmer in corn that is taller than 12"?
One good option is Halex GT + Status in up to 30" tall or 8 leaf corn or Capreno + Diflexx on corn up to 7 leaf.  Status may be applied at rates as high as 5 to 10 oz/A in corn that is 4 to 36" tall. However, in our research 4 oz/ A of Status added to either Halex GT at 4 pts/A or 3 oz/ A of Capreno has been very consistent controlling large Palmer amaranth over the past 3 years.
Realm Q is another option as it can be applied to corn up to 7 leaf or 20" tall, whichever comes first. We evaluated Realm Q at 4 oz/A plus Status at 4 oz/A on large Palmer amaranth and have found that it provides less consistent Palmer control than the tankmixes previously discussed.  Realm Q has less Callisto in it than the 4 pt Halex GT rate and this is likely the reason.  This can in most cases be offset if the Status rate is bumped up to 6 oz/A.
Some have inquired about making their own tankmix utilizing the bleaching herbicide Impact or Armezon (common name topramezone) instead of the premixes listed above.  In our research we have seen good results with Impact or Armezon when tankmixed with herbicides Dual Mag and either atrazine or Status. If the field has a good deal of grass weeds in it adding glyphosate will help.  If Palmer amaranth is 4" tall or more be sure to go with the maximum use rate of 1 oz/A of Impact or Armezon.
The cut off for Halex GT is 8 leaf corn and the cut off for Capreno is 5 leaf corn.  On corn pass these cut offs then Impact or Armezon + Status would be a good choice on corn up to 36" tall.  It is not ideal to have to remove pigweed in this large corn as yield loss from competition has already occurred, but some will be left with few other options in some fields.