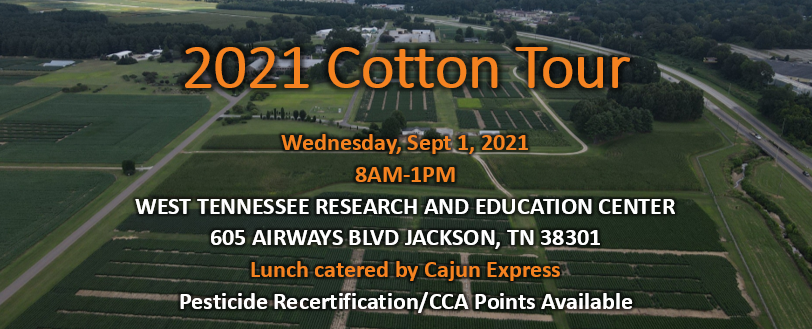 Join us this Wednesday for the 2021 Cotton Tour!  The remnants of Hurricane Ida and the three doves that were in the area will be gone by Tuesday afternoon.  Partly cloudy weather with mild temperatures are forecast for Wednesday- hard to ask for better field day weather!
Registration will begin at 8:00 a.m. with the tour departing at 8:30 a.m.  The tour will end at noon with lunch. University of Tennessee Extension and Research personnel from across the state will be presenting on a wide range of topics including: variety testing, including updates on ThryvOn; fungicides and target spot; weed and resistance management; defoliation; insect control; market outlook; and drought mitigation, just to mention a few.  Pesticide Re-certification and CCA points will be available.
Cajun Express will be catering the event with fried catfish and chicken.  Come join us Wednesday morning to pick up some useful information and eat a great meal!