To date there have been additional reports of stripe rust in West TN and some fields with bacterial leaf streak. As wheat starts to bloom, continue to monitor the Fusarium Head Blight(FHB)/Head Scab model to assess if fungicide application is needed.
As always, use the wheat disease field guide found at guide.utcrops.com for more information on identification and management options.
The reports of stripe rust have continued in West TN, from southern to northern counties. Stripe rust is aggressive and can develop very quickly, so once observed a fungicide application should be used to protect yield. Those that have already applied a fungicide, prior to bloom, need to monitor their FHB risk (http://www.wheatscab.psu.edu/) and consider when their previous fungicide application went out and what product it was, to assess whether an additional fungicide at bloom is warranted. With the majority of TN at low risk (see image 1) and the moderate risk in the Northwest corner of TN diminishing over the next 72 hours, most fields that have had a fungicide application will not need an additional application; but continue to monitor your area as whether can change quickly and along with it the risk for head scab.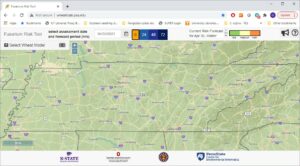 One other disease to be aware of is bacterial leaf streak (image 2), which fungicide application will not work on. It can reduce yield up to 40%, although losses are generally 10% or less. This disease is caused by the bacteria Xanthomonas translucens and the most common source of primary inoculum is from seed, but the bacteria can also survive in previously infected crop or weed hosts debris.  Hence, management options include tilling previous infected debris, using clean/certified seed, and varietal resistance. More detailed information can be found on the APSnet.org site for "Bacterial Leaf Streak of Wheat."