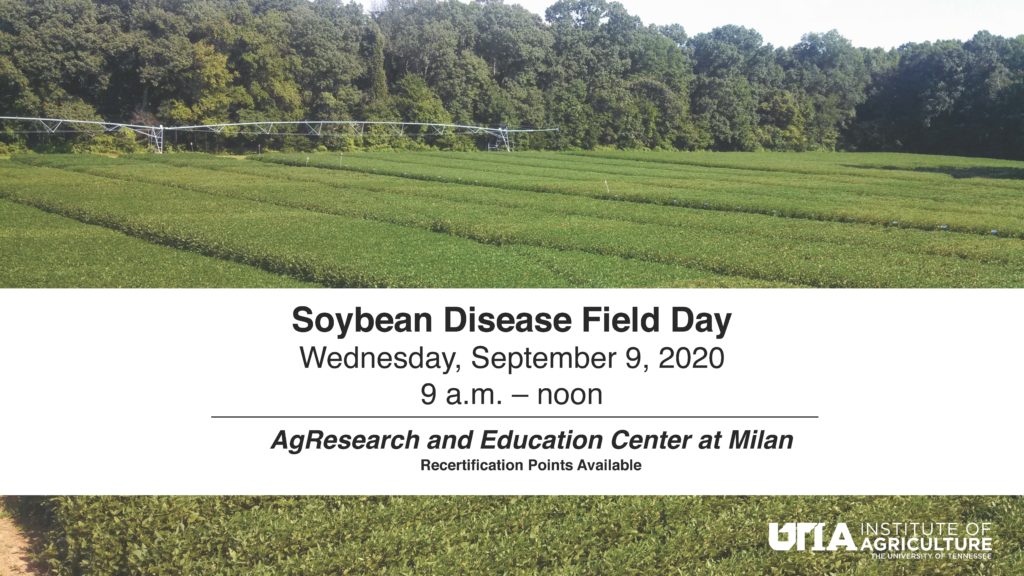 Wondering what's been making your soybean field look sickly? Come to The University of Tennessee Soybean Disease Field Day, held Wednesday, Sept. 9th, at the Milan Research and Education Center. Preregistration is required as there is limited space to allow for social distancing (only 40 in-person spots available and once they are filled with preregistration no additional attendees will be allowed). The tour will be completely outdoors and attendees need to arrive before 9 AM when trailers will be leaving for the field. Hand sanitizer will be available and masks for attendees as needs. The tour will conclude with a box lunch no later than noon.
Email LaDonn Kelso (dkelso2@utk.edu) your full name with the subject – register for Soybean Disease Field Day to reserve your spot. Registration will close at 5 p.m. CST on Monday, Sept. 7.
The tour will also be provided virtually the following week, which no preregistration is required for virtual tour.
Pesticide re-certification and CCA points will be available. Field demonstrations will include soybean disease and insect pest identification, UT variety trials, fungicide efficacy trials and other UT disease research trials. Hands on disease and insect pest identification will cover those that occur in Tennessee including frogeye leaf spot, target spot, Septoria brown spot, southern stem canker, sudden death syndrome, and the new/emerging disease taproot decline as well as caterpillar and stink bug identification.
Again for in-person attendance to field day preregistration is required (email LaDonn Kelso at dkelso2@utk.edu by 5 p.m. on Sept. 7), but the tour will also be available virtually the following week on news.utcrops.com.