With all the counties in AL with soybean rust present, many Middle TN later planted soybean fields will most likely benefit from a fungicide application for yield protection.
Dr. Ed Sikora, Extension Plant Pathologist at Auburn Univ., reported on the Soybean IPMpipe website (https://soybean.ipmpipe.org/soybeanrust/) and Twitter (@alabamaED) the past few days (Aug. 20 and 23) the increase in counties he's found soybean rust in…"Soybean rust has been detected in 48 of 67 counties in AL. I was able to find SBR on kudzu and soybeans in NW corner of state this week. Late soybeans at risk." – Aug. 20. And "Soybean rust is basically statewide in AL after being found in 6 new counties on kudzu. SBR can be a problem for soybeans at the mid R5 stage or younger. The effect of twin hurricanes in the Gulf will NOT help. A fungicide spray for beans yet to be treated is warranted in AL" Aug. 23.
While we have yet to detect soybean rust in our TN soybean sentinel plots, it's very likely soybean rust is already in Middle TN/TN Valley area and late planted soybean fields that are in early reproductive stages would likely benefit from a fungicide application.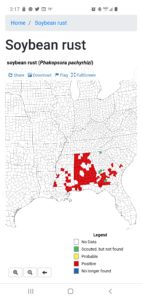 Soybean rust will begin in the lower canopy similar to Septoria brown spot, but will have raised pustules on the underside of the leaf. Use the mobile friendly field guide at guide.utcrops.com to aid in correct diagnosis and one can always bring in your local county agent to help identify soybean diseases. Also on the field guide and at https://extension.tennessee.edu/publications/Documents/W343.pdf one can find the soybean foliar fungicide efficacy table to help guide fungicide selection.