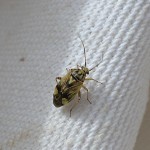 It's been a generally quite week for insect problem but below are some reminders and suggestions.
Cotton:  Most cotton is past the stage where thrips are a concern.  Tarnished plant bugs will now be our primary focus for much of the season. Thus far, most reports indicate a slow and sporadic start with plant bugs, but treatments are now being made more widely.  However tempting, I encourage people to avoid using acephate this early in the season. We need to preserve this insecticide for future use. It also causes predictable problems with spider mites and aphids on many occasions. Please refer to last week's article (below) for management recommendations.
Soybean: Insect problems in soybean are currently few and far between. I've seen some minor defoliation caused Japanese beetles, green cloverworm, and bean leaf beetles but nothing approaching a treatment level. However, scouting weekly will help avoid unhappy surprises. Remember, prior to bloom, treatment is recommended if defoliation reaches 30-35%, but the treatment threshold drops to 20% from early bloom to R6. Don't forget our mobile friendly pest guides for soybean and other crops at http://guide.utcrops.com/.
Corn: Bt corn goes a long ways in preventing serious insect problems. For non-Bt corn, southwestern corn borer is the the primary concern. This is especially true in areas that traditionally grow more non-Bt corn (such as required on Federal wildlife refuges). The first generation moth flight in over. Larvae are now developing on the plants. Many are already tunneling in the stalks and can't be effectively controlled with insecticides. There will be a lull of moth activity for the next 10-14 days before the second generation moth flight kicks off. Treatment for the second generation will be needed in some fields. You can read more about managing this pest at https://guide.utcrops.com/corn/corn-insect-guide/southwestern-and-european-corn-borers/.