Wheat is blooming and considerations about fungicide applications are being made.
With the warmer temperatures in Tennessee I have not seen or heard much about stripe rust development or leaf rust, but I expect that the latter might be getting ready to ramp up with warm temperatures and moisture. Although, I've seen leaf rust come in late enough in the season to look ugly but not affect yield which could be the case this year.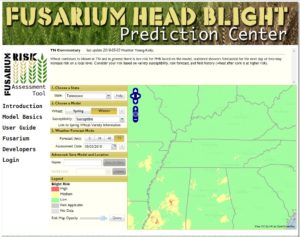 Right now the Fusarium Head Blight forecast model (www.wheatscab.psu.edu) has low risk across Tennessee for the next 72 hours, but with scattered showers forecasted in the next couple of days this could increase risk in those areas. Consider your risk on a field by field basis considering your variety susceptibility, rain forecast, and field history (wheat after corn is at higher risk) and remember only solo triazoles (FRAC or fungicide group 3 on the label) should be applied at this growth stage for prevention/management of Head Scab.  The best products currently available for reducing Scab symptoms and DON levels are Caramba and Prosaro.  A more comprehension fungicide table can be found at UTcrops.com (Wheat fungicide Table).
For more general information about the FHB model and FHB infection/develop see previous article: Prevent Scabby Heads – Forecast for Fusarium Head Blight in Wheat at news.utcrops.com