The 2018 Cotton Focus will be held at the First United Methodist Church (200 S. Church St, Jackson, TN 38301) this Thursday, Feb. 8th beginning at 8 AM and concluding with lunch. Pesticide recertification points and CCA/CEUs will be offered.  A dicamba training will be offered after lunch.  Parking information and detailed agenda information is included below:
Guest speakers this year include:
Stanley Culpepper, Extension Weed Scientist with the University of Georgia;
Bill Robertson, Cotton Specialist with the University of Arkansas;
Darrin Dodds, Cotton Specialist with Mississippi State University; and
Tyler Sandlin; Agronomist & Cotton Specialist with Auburn University.
Additionally, Aaron Smith, Scott Stewart, Heather Kelly and I will be providing updates from the 2017 season and items to keep in mind as we enter the 2018 season.
Beginning at 1PM, a dicamba training will be offered.
A brief agenda can be found here, or by clicking the image above.
Clayton Hall is on the Northwest corner of the church- you will see it as a red star in the below image.  Plenty of parking is available in lots to the east, south and west of the church (outlined in yellow and blue on the below image).  Be aware most of the parking on the street is for a maximum of 1 or 2 hours.  Also, if you park in the lot to the west of the church (outlined in blue), do not back-in or pull-through the spots.  You will be able to enter the church from Church Street or from the east parking lot.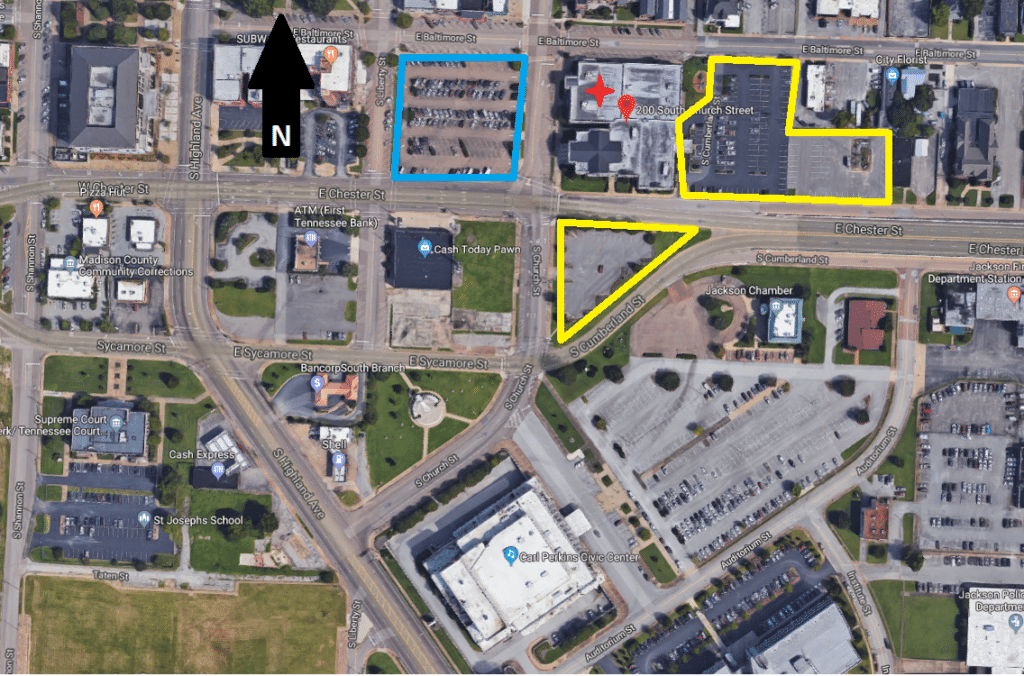 Look forward to seeing each of you there!