Soybeans have gotten into reproductive growth stages and diseases have started appearing. To better identify diseases and guide management decisions use the resources below…
As can be expected many diseases of soybean do not appear until reproductive growth stages. Diseases that have been reported in West Tennessee to date include target spot, septoria brown spot, and frogeye leaf spot. More resources for disease identification and management options can be found at UTcrops.com and the mobile friendly field guide at guide.utcrops.com.
Target spot (Image 1) and septoria brown spot (Image 2) are diseases that usually stay in the lower canopy and depending on variety and weather conditions have very little to no effect on yield. Only if these diseases are getting into the middle canopy during early to mid-reproductive growth stages (R1-R3) might a fungicide application be necessary to protect yield from these diseases. As stated my Dr. Tom Allen, many highly susceptible target spot varieties have been pulled off the shelf since last year and a list of highly susceptible target spot varieties noted last year can be found in his article (Soybean Target Spot: Information Regarding Susceptible Varieties Observed During 2016). Also, disease and yield data (with and without a fungicide application) for varieties tested in TN can be found on the searchable database – search.utcrops.com/disease (2016 data includes RoundUpReady, LibertyLink, and Extend varieties and disease ratings for Target Spot, Brown Spot, and Frogeye Leaf Spot).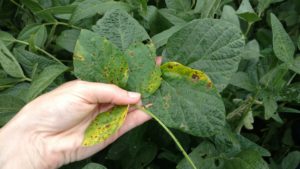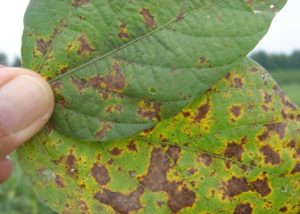 Frogeye leaf spot (FLS, Image 3) varies across fields depending on variety, field cropping history, and weather conditions. Most fields planted to a FLS susceptible variety, following soybean, and that have had good moisture will benefit from a fungicide application around beginning pod (R3 – at least one of the top 4 nodes contain a ¼ in. long pod). With strobilurin/QoI fungicide resistance in the FLS pathogen population a solo strobilurin/QoI fungicide is not recommended. Furthermore, the strobilurin/QoI component in combination fungicides will be ineffective against FLS, although will still protect yield from other diseases. The efficacy of a combination or fungicide mix on FLS depends on the other component(s). General fungicide efficacy table, which lists both the active ingredients, product/trade name, and how well they manage individual diseases (rated poor to excellent) can be found at utcrops.com/soybean/diseases.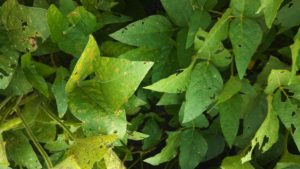 While I recommend fungicide combinations that have had the best FLS control and protected yield in my research trials (see Table from previous article on utcrops.com, Scouting for Soybean Diseases and Deciding on Fungicides), making your own fungicide mix with solo-active ingredient fungicides is another option. Again the level of protection will depend on the efficacy of the non-strobilurin/QoI component which is usually a triazole component. Generic triazoles include, Tebuconazole products which are not labeled for FLS (poor efficacy) and Propiconazole products are only fair against FLS. Other triazoles such as those in Topguard, Proline, and Domark are good to very good against FLS. Also the active ingredient of Topsin-M (thiophanate-methyl or 't-methyl') is very good against FLS, but has high risk for fungicide resistance development and it is recommended to use in combination with another component from a different fungicide group (i.e. a triazole component).
As always variety selection is the first and usually strongest line of defense against disease. Find variety information and other disease information on UTcrops.com.