Heat unit accumulation has been the big question over the past week.  Mild temperatures settled over Tennessee during early August and there is some concern that the crop may not be maturing as quickly as noted in years past.  While I agree the weather has been quite comfortable, we are currently very close to the 30 year average heat unit accumulation trend noted from 1980-2010.
Below you will find graphs of accumulated DD60s assuming a May 7th planting date.  Blue lines represent the 2017 season and the red lines represent the 30 year normals calculated observed weather from 1980-2010.  As many of you recall, we had abnormally warm temperatures in late May and Early June.  These peaks can be seen in each graph around day of  year (DOY) 140.  Additionally, mid July was also characterized by abnormally warm temperatures (note the increase in slope from DOY 200 to 210).  Cooler temperatures over the past few weeks have dropped most locations to slightly below the 30 year norm, but the separation is slight.  While I was quite concerned about the late bloom date of some acres several weeks ago, we have begun to close the gap.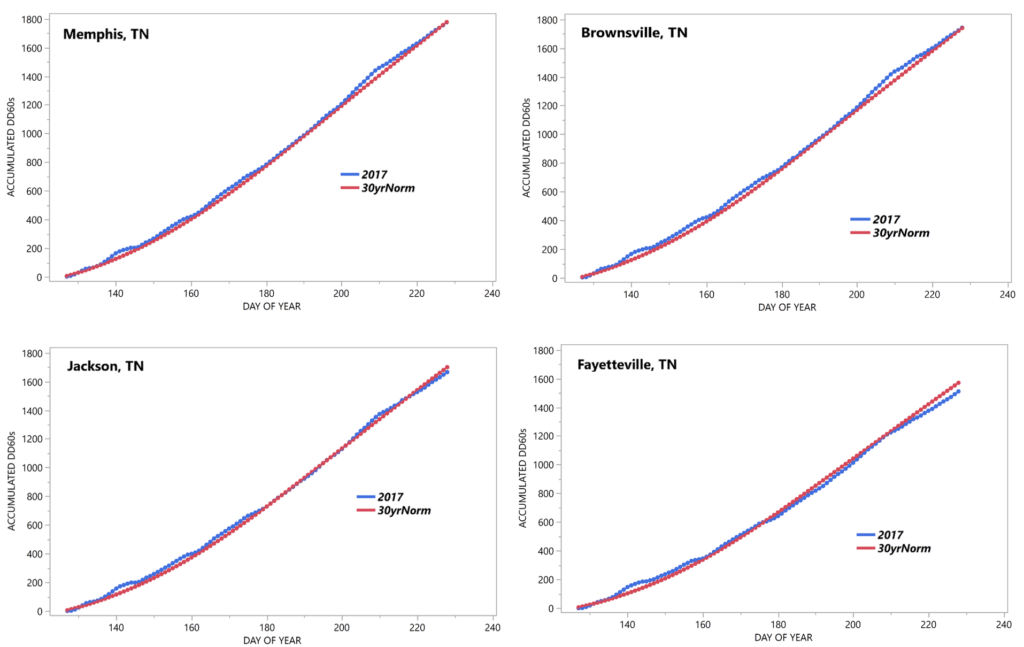 Looking forward. . .
The next 10 days look more like a week in late September than a week in late August.
Quite a bit of our crop has either reached or is very close to a hard-cutout; many areas  passed physiological cutout prior to the last effective bloom date, are blooming out of the top and are beginning to 'turn'.   This puts us very close to where we were last year, if not slightly ahead.  But with the forecasted below-average temperatures, boll maturity will likely be slightly behind the average-year.  Keep a few things in mind.  First, heat units do not capture everything- they can give us a rough idea of maturity, but fail to capture progress gained on clear days.  For those keeping a close eye on DD60s, those areas that would fall within the 'hard-cutout' category will likely mature faster than you expect.  Second, don't forget that many of our cultivars have the potential to high mic. I know this may not seem like the year for micronaire to be an issue, but (again) much of our crop is in a hard-cutout status; with very little new growth to receive carbohydrates, excessive levels of cellulose deposition may occur in older bolls.
As we get closer to the middle of September I'll be expounding on managing micronaire with harvest aids during 2017.  For additional reading, check out this Cotton Physiology Today Article: https://www.cotton.org/tech/physiology/cpt/fiberquality/upload/CPT-Sep90-REPOP.pdf