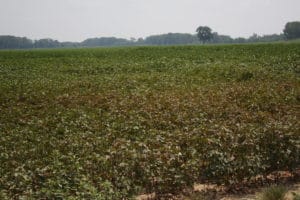 People are often resistant to making applications to control spider mites, particularly later in the season. I understand the reluctance to treat. We've all had experiences where populations crash on their own or stay limited to small areas of a field, but the reverse is also true. The threshold of 30-50% of plants showing injury with mites present is the best we've been able to do, but we all know that rainfall or irrigation reduces the impactsof spider mites. The truth is that it requires some professional judgement and experience when making a treatment decision. Having said that, my observation is that most people wait too long to make spider mite applications.
Consider infestation levels of spider mites before terminating insecticide application. Cotton under stress will be more sensitive, and spider mites can potentially cause significant yield loss if they cause defoliation prior to NAWF5 + 600 DDs. This is 2-3 weeks after we recommend terminating insect applications for most other pests.
Below are the results of a spider mite trial done last week on the station in Jackson. We have several miticides that do a good job of reducing spider mites. At 7 days after treatment, only an experimental product provided better control than Agri-Mek (abamectin), Oberon, or Zeal. Most people will choose an abamectin product because of costs. I won't argue with that although Oberon and Zeal WSP have been the somewhat more effective in my tests over the years. There are some other good options as well including Acramite, Oberon and Portal. I did not include Brigade or any other bifenthrin product in this test even though it sometimes provides suppression of spider mites. Control has been too inconsistent, and my temptation to recommend it has diminished now that abamectin products have become more affordable.
Note – there are two formulations of abamectin available. Agri-Mek and most 'generic' products are 0.15 pounds of active ingredient per gallon. Agri-Mek SC is a much more concentrated (0.7 lb AI/gal). Also, we used Zeal WDG in the test below, but a liquid formulation of Zeal SC is also available. Be sure to match the rate of active ingredients according to the formulation.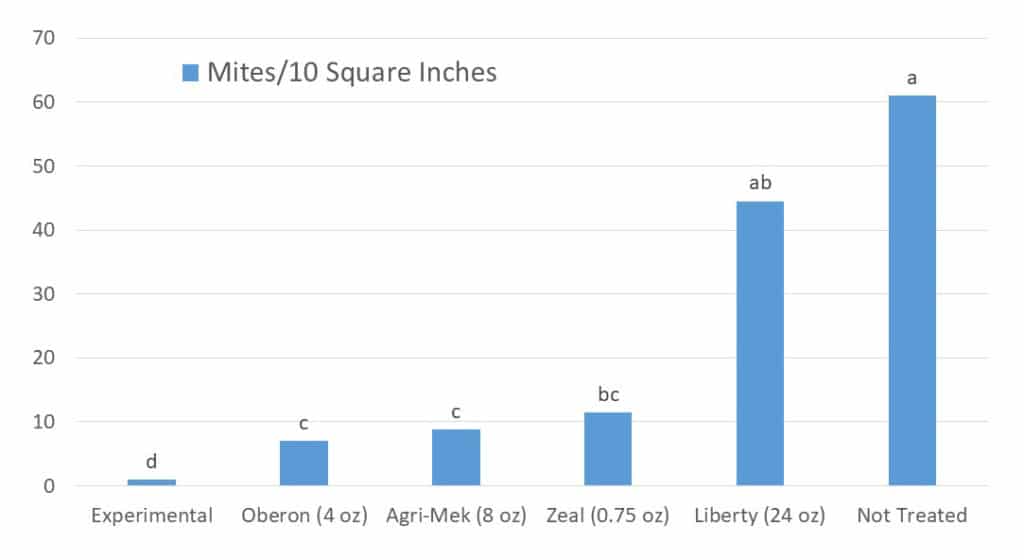 You may be wondering why Liberty was included in this test. Although a herbicide, this product can provide suppression of spider mites. One of my theories why spider mites have re-emerged this year is that we've replaced a lot of Liberty applications with dicamba on XtendFlex cotton. However, we did not see significant control in this test at the 24 oz rate. Could we have selected for some level of spider mite resistance to Liberty over the past several years?