There have been no reports of stink bugs in cotton and populations in soybean remain unusually low. There have been some reports of spider mites and aphids in some cotton fields, but it is an increase in plant bugs numbers that is the most obvious change this week. Infestation levels are variable, but a higher numbers of adults and a few nymphs are present in many fields. This includes both tarnished plant bug and clouded plant bug in some areas. Below are a few reminders and suggestions for the coming 2-3 weeks.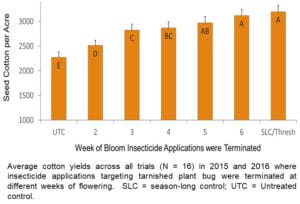 It is normal to see plant bug numbers increase to treatable numbers during the last two weeks of July and the first 10 days of August, and this is prime time for boll setting. Some recent regional research has demonstrated that insecticide applications during the first three weeks of bloom are critical in preventing yield loss when plant bugs are present at threshold levels (see figure).
Once you progress into bloom, start using a drop cloth to sample for plant bugs, and treat when you find an average of 3+ plants bugs per drop cloth. A good rule of thumb is to count stink bugs as equivalent to 3 plant bugs when making a treatment decision. You can also sample thumb sized bolls and treat for stink bugs when 20% or more show internal signs of injury (see photos below).
If immature plant bugs are present at 2-3 times the threshold levels, consider making two consecutive applications at a 4-5 day interval. This often "breaks the cycle" and ultimately can save you a spray.
Use reliable/recommended insecticides at effective rates. As we get closer to August, tank mixes will become more necessary to control a pest complex that often occurs, primarily plant bugs, stink bugs, bollworm, and fall armyworm.
Early bloom is a good time to get some Diamond or Transform into the system. They both offer a different mode of action for plant bug control. Tank-mixing in 4-6 oz of Diamond sometime during early to mid bloom will go a long way towards preventing fall armyworm problems. Potential problems with fall armyworms are more likely on Bollard 2 cotton; WideStrike and especially WideStrike 3  should provide good control.
I'll discuss late-season mixes in a future article, but there won't be any big surprises. It will include a lot of Orthene/Acephate, Bidrin, Transform and pyrethroids in various combinations based on the pest complex present in the field. I'll also address the need for treating bollworm in Bt cotton (and insecticide options). My observations and moth trap data indicate we are right on track for our normal bollworm flight to kick off in earnest at the end of the month.