The University of Tennessee Variety Testing team is pleased to announce the launch of a new search tool for yield and agronomic data for corn grain and silage, cotton, soybeans and wheat. The tool is housed at http://search.utcrops.com and may also be accessed through the main utcrops.com website.  Users will be able to access yield and agronomic data tables in a more mobile-friendly format.  Data columns with up/down arrows (see figure below) will allow user to sort varieties from highest to lowest or lowest to highest depending on need.  Variety testing coordinators will be able to upload data more promptly by maturity group which will better meet the needs of a changing industry, where rapid and efficient access to variety trial information is needed.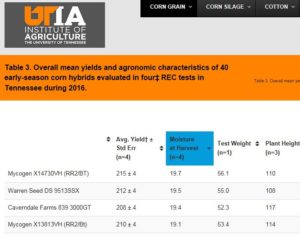 The University of Tennessee's Variety Testing program is a fee based Extension program with a long track record of providing hybrid and variety yield data that allow producers to select high yielding hybrids and varieties that are suited to Tennessee growing conditions.  Printed copies as well as on-line pdf files of the complete variety test results will continue to be available at varietytrials.tennesse.edu, extension.tennessee.edu and utcrops.com.
A Phase II project, which is the creation of an interactive searchable database that will integrate yield, agronomic data and disease ratings, is scheduled to begin during fall of 2017 with scheduled completion in 2018.