The EPA as once again approved the Section 18 application allowing the use of Transform WG to control tarnished plant bugs in cotton. Specific restrictions are listed below and essentially identical to last year.
Application by air or ground is allowed at rates of 1.5 – 2.25 oz of product
A maximum of 4 applications may be made per year (not to exceed 8.5 oz of product per acre)
Application is prohibited when wind speed exceeds 10 MPH
Retreatment is prohibited within 5 days, and the re-entry interval (REI) is 24 hours.
Do not apply within 14 days of harvest
No more than 240,000 acres of cotton can be treated in Tennessee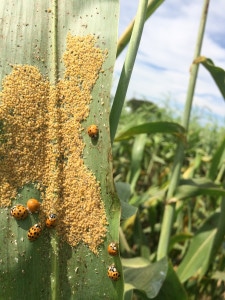 Please remember that Transform is not labeled for sorghum. Given the very low acres of grain sorghum, I do not intend to submit a Section 18 for Transform for the control of sugarcane aphids. However, Sivanto Prime is fully labeled for grain and forage sorghum and typically provides superior control. A Section 18 application has also been submitted for Sivanto Prime in sweet sorghum. Those of you with grain, forage, or sweet sorghum need to plan accordingly to make sure you have a source of Sivanto.