Although a common comment this week has been that sugarcane aphid (SCA) infestations are not spreading rapidly, with most infestations concentrated on field edges, we are steadily treating more and more sorghum fields. You can assume SCA are present in essentially all fields in West Tennessee, but fields requiring treatment are scattered across the area (see below). It hasn't always been true, but a common theme is that many of the fields treated within the last few weeks with a pyrethroid insecticide are those that have required treatment for aphids.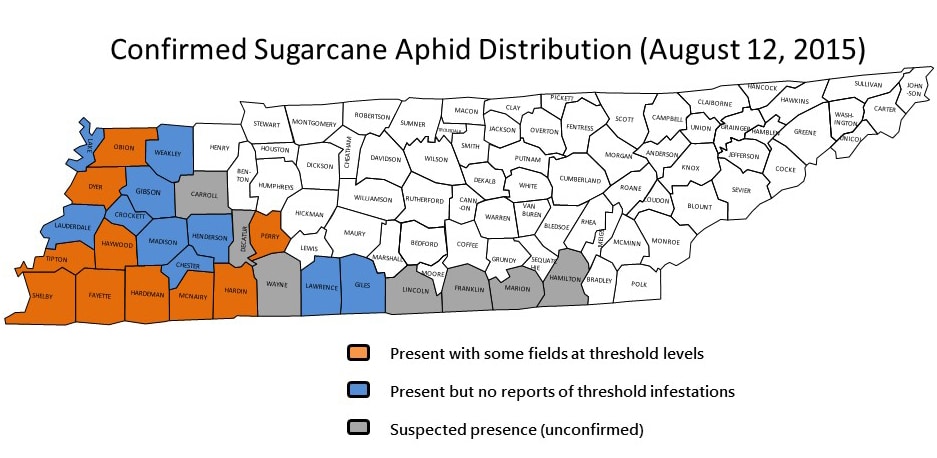 As a reminder, the suggested treatment threshold is when hot spots of SCA aphid are scattered throughout the field and 30% of more of plants have at least some aphids present.  "Hot spots" are areas where 100 or more aphids per leaf are present in some plants (and usually associated with an accumulation of honeydew).
Once fields have passed the soft dough stage, the risk of yield loss is greatly diminished. Unfortunately, this does not mean you can quite worrying about SCA. There have been serious issues with harvest efficiency if moderate to large numbers of aphids persist until harvest. The aphids will often infest heads, particularly after harvest aids are applied, and the accumulation of honeydew in heads can really gum-up a combine. Frankly, we are not sure what threshold should be used to prevent this from happening. It takes more than scattered hot spots and generally low populations on most plants to cause a significant harvest issue. A little judgement is required. After the soft dough stage, I suggest treating if aphids are present at moderate levels on most plants (e.g., colonies of 100 of more aphids present on the majority of plants).
I expect that much of the earlier maturing sorghum will get by without treatment. Insecticides can be applied with harvest aids to help prevent harvest problems, but there are pre-harvest interval restrictions that must be considered.  Once again, let me stress that Transform WG (1-1.5 oz/acre) and Sivanto (4 oz/acre) are the only insecticides I would recommend with confidence to control SCA. The Section 18 for Transform requires a 14 day pre-harvest interval for grain or stover (7 days for forage). Sivanto has a 21 day pre-harvest interval for grain or stover, and 7 days for forage.