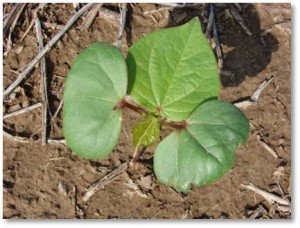 As almost everyone knows, there are concerns about the consistency of neonicotinoid seed treatments in cotton because of resistance in populations of tobacco thrips. Also, label restrictions prevent tank mixing any insecticides with dicamba on XtendFlex cotton. Thus, those planning on growing dicamba tolerant varieties and spraying Engenia or XtendiMax (dicamba) will be especially concerned with at-planting thrips treatments that reduce the chances of needing a foliar application.
My counterparts at Mississippi State University recently wrote a good article addressing different thrips control options: Seed Treatment Choices Will Be More Important in 2017 (by Angus Catchot, Jeff Gore, Don Cook, and Darrin Dodds). This article offers some pros and cons to various thrips control options, and there is a regional consensus to these opinions among our entomology group.  I won't reinvent the wheel. Take a look at the article linked above. The take home point … adding another component to a base seed treatment of imidacloprid will reduce the likelihood of needing a foliar spray for thrips control.
The article also discusses AgLogic 15G. This product contains the same active ingredient (aldicarb) as Temik 15G. AgLogic product WILL NOT be labeled for use in Tennessee during 2017.