There have been a number of reports of pre applied herbicides not becoming activated in corn.  In most cases a significant stand of Palmer amaranth is up with the corn.  Fortunately, we have many options in corn to take out this emerged Palmer.  Atrazine and oil will do a good job on small Palmer as well as the many popular bleaching premix herbicides like Halex GT, Capreno and
Realm Q.  As with all corn herbicides atrazine will make these premix herbicides better on most weeds including Palmer.  This is particularly true when the Palmer gets some size. Once Palmer gets above 7 to 8" tall the bleaching herbicide based premixes as well as atrazine will not provide good control alone.  In those cases tankmixes of the herbicides would be the most consistent way to control large Palmer amaranth.
The plant growth regulating herbicides like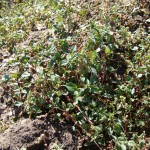 dicamba and Status will also typically do a good job on small Palmer.  However, one observation during the burndown season this year is that the small early flowering Palmer are not being as consistently controlled with dicamba even at rates as high as 10 oz/A .   Typically, 10 ozs/A of dicamba will provide good control of non-flowering 2 to4" tall Palmer but for some reason when they go reproductive that has not been the case this spring (picture right).  As a result if you elect to utilize Status on these pigweed escapes I would add some atrazine provided the corn is not taller than 12".