Authored by Mitchell Richmond and Zachariah Hansen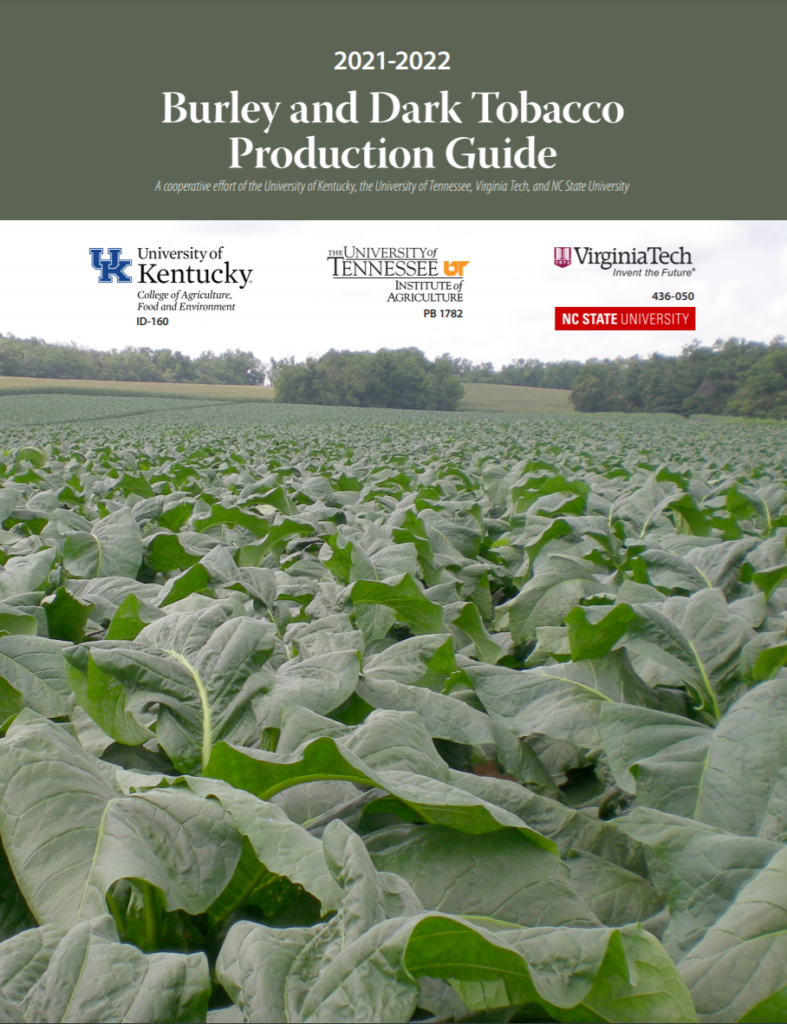 Now that everyone is washing their tobacco setters [transplanters] to be garaged until next year, it is a great time to think about some of the crop management decisions for the upcoming field season.  These decisions may include solutions for pest control in your tobacco crop.
Be sure that you are following your contract with your leaf purchasing company. It is important that you understand what products are acceptable and unacceptable and that you use this information in your pest management program.  Even though UTExtension is a great resource, there are no longer comprehensive recommendations that can account for all the different company contracts.  Be sure to reach out to your representative if you have specific questions.
Read the pesticide label. Remember that the pesticide label is a legal document that describes the how, where, and when of an application.  This will also ensure that you do not apply products to tobacco that are not labeled for tobacco deeming your crop unmarketable.
Weed control is very important, especially while the tobacco crop is establishing. These weeds compete for sunlight, water, nutrients, and space and may impact the tobacco crop by reducing yield, increasing harvest difficulty, and contaminating cured leaf with Non-Tobacco Related Material (NTRM).  There are few options available for weed control prior to transplanting (e.g. Command, Devrinol, Spartan) but there are even less for post-transplanting (e.g. Poast). Therefore, use of steel in the form of cultivation and a goose-neck hoe are important practices.  Remember that herbicides are only a portion of the integrated weed management program and crop rotation, tillage, and cultivation are important.
Follow economic thresholds as outlined in the Insect Pest Management chapter of the 2021-2022 Burley and Dark Tobacco Production Guide for insect control decisions.  Generally, Flea Beetles and Cutworms can be present in the field for the first 4 weeks after setting and Aphids, Budworms, and Hornworms can show up about 3 weeks after setting through topping.
Diseases: Regular crop scouting and proper disease diagnostics are crucial for in-season disease management. Disease issues are best addressed early before diseases become established. Your local county Extension agent can assist with disease diagnostics and management recommendations. The time has passed for several key cultural practices aimed at reducing disease pressure, such as selecting disease-resistant varieties and crop rotation, but these practices should be kept in mind for next season. If black shank has historically been a problem, well-timed fungicide applications at transplant, first cultivation, and/or layby provide good control if a moderately or highly resistant variety has been planted. Angular leaf spot continues to be the most challenging disease in dark tobacco production. Variety selection and crop rotation are crucial for angular leaf spot management, because chemical management is only marginally effective. Agricultural streptomycin applied at 200 ppm may provide some control, but resistance to streptomycin has been documented. See the 2021-2022 Burley and Dark Tobacco Production Guide for updated fungicide and variety recommendations.
We in UTExtension are here to support you and provide data-driven recommendations to assist with production decisions. Please contact your local county Extension Agent for specific questions.
DISCLAIMER: The mention of pesticide trade names and active ingredients and omission of others does not equate to an endorsement or criticism of any product or active ingredient.