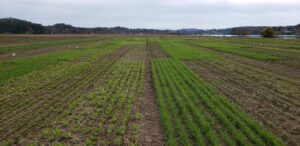 Are you thinking about putting in a cover crop this fall? While cover crops can provide many benefits, picking the right species and varieties for your system is critical to maximizing those benefits. Check out our 2020 cover crop variety trial results for a head-to-head comparison of 60 cover crop varieties at three TN locations.
Cover crops were planted in fall 2019 and evaluated for a number of important traits, including fall and winter canopy cover, biomass at termination (April and May), and estimated nitrogen release.
Top-performing cereal varieties, including Bates RS4 cereal rye, NF95319B cereal rye, NF 97325 cereal rye, NF99362 cereal rye, and Wintergrazer 70 cereal rye, excelled at providing fall canopy cover and spring biomass,
Top-performing legume varieties, including AU Merit hairy vetch, Survivor winter pea, Purple Bounty hairy vetch, Patagonia Inta hairy vetch, and WinterKing hairy vetch, excelled at providing winter canopy cover, spring biomass, and nitrogen release.
Top-performing brassica varieties, including Viva hybrid brassica, Digger radish, and Smart radish provided above average fall and winter canopy cover at the East and West TN locations.
More information can be found in the full publication or excel tables. A virtual tour of the plots was also presented at the virtual Milan no-till field day and is available here.