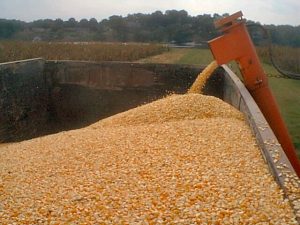 Our county corn trial numbers are still rolling in, but results are up for the small plot trials performed at the University of Tennessee AgResearch and Education Center locations. Results can be found at search.utcrops.com/corn-grains as both web tables or as a downloadable excel file. These tables will be updated with county data as soon as that is available.
AgResearch and Education Center (REC) plots are 5 ft (2, 30 in rows) by 30 ft and are replicated three times per location. Total number of entries was on par with most years, totaling 89 corn hybrids, representing 14 company/brands. We typically have seven environments for our early and medium corn grain, and six for our full.  Unfortunately, data from our AgriCenter trial in Memphis had to be dropped this year due to poor stands from spring flooding and significantly reduced yield from deer damage.
Average yields across the remaining six environments were 227 bu/ac for early corn (<114 DAP), 232 bu/ac for medium (114 – 116 DAP), and  226 bu/ac for full (>116 DAP).  Hybrids did differ significantly for yield, quality, and agronomic traits. Mean separation (MS) values help us identify statistical differences between hybrids. Look for the "A" group in the MS column next to a trait to identify hybrids that were top performers for that trait. If looking at the online tables, be sure to scroll right to see all of the quality and agronomic traits evaluated.
We have both irrigated and non-irrigated trials at our Milan and Springfield locations, and we did see a yield increase from irrigation at both locations this year. At Milan, irrigated yield exceeded non-irrigated yield by 24 – 27 bu/ac, depending on test.  At Springfield, similar yield increases were seen in the early test (26 bu/ac), but this jumped to much bigger increases in the med and full tests, ranging from 54 to 68 bu/ac.
Stay tuned for the full report…