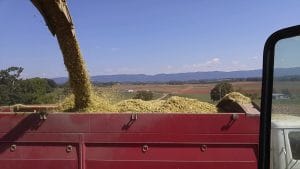 Our 2018 Corn Silage hybrid trials data has been finalized and is now available on search.utcrops.com/corn-silage . Here you can find the full pdf version of the report  as well as all tables in either excel format or as web-friendly, sortable and searchable tables.
The online tables have some nice features for finding the data you want quickly and easily.  Here are a few tips for viewing online.
Be sure to scroll to the right to view all columns.
Use the "previous" and "next" button to see all entries.
By default, columns are sorted by yield. If you'd like to sort  by a different column, just click on the column title.
If you are looking for a specific hybrid or trait package, the search feature is especially useful.  Just type what you are looking for into the "Search" box at the top right of the table.  For example, typing "TN" brings up all of our TN experimental lines in the test while typing "LL" displays all hybrids that had LL listed in their herbicide trait package.
New this year, we have 1 yr, 2 yr, and 3 yr data in the same table so that you can easily see which hybrids have been evaluated over multiple years and how they performed. Mean separation (MS) letters are also now given for each trait evaluated, rather than just yield. This allows for easy identification of top-performing hybrids for either yield, agronomic, or quality traits. Hybrids that have any MS letter in common, within a column, are not significantly different for that trait.
Be on the lookout for our corn grain prelim report to be posted within the next week!