Think you are seeing target spot in your cotton? Make sure to double check it's not just bacterial blight…
In the past week bacterial blight has really ignited in west Tennessee and has been causing confusion by having some look-a-like target spot lesions (see pictures below). While we are getting to the stage of cotton and time of year to see target spot, over 80% of the samples and fields I've looked at have been bacterial blight and not target spot. So some major points to consider when scouting cotton for target spot are:
Target spot will not be on the edge of a field, it will be where the canopy has closed
Target spot will start in the lower canopy – if you're seeing lesions in the middle or upper canopy without defoliation it's not target spot
If you have obvious bacterial blight and you're seeing 'target-like' lesions with a yellow halo, this could be bacterial blight
For more information on management for target spot see my previous article – Target Spot in Cotton – How to identify it and management options, at news.utcrops.com. We have observed target spot in some fields in Fayette and Carroll County so far in Tennessee. To see where target spot has been reported across the southeast and mid-south visit http://ext.ipipe.org (will be updating the site by 7/21).
For more images, info, and simply key to identifying leaf spots in cotton go to the cotton disease section of the mobile friendly field guide at guide.utcrops.com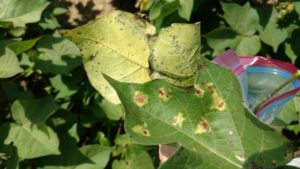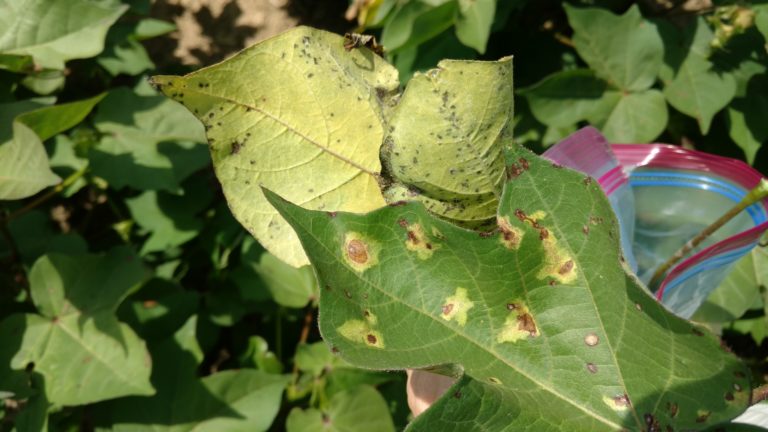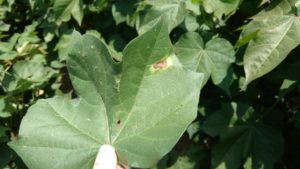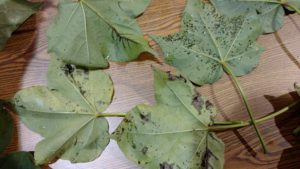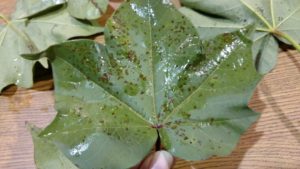 The good and the bad about bacterial blight:
The bad – there are no management options. Fungicide will not affect it, front end management of selecting resistant variety and residue management are it
The good – often has little impact on yield, so continue to manage your cotton as you would otherwise