While the earliest planted and maturity soybeans are drying down and being harvested many later planted and maturity soybeans are exhibiting multiple diseases and some pre-mature defoliation may be occurring due to diseases.
With all the rain received in August and the hot, humid weather that is finishing out the season in Tennessee it is not surprising that there is some level of disease in every soybean field as well as high disease levels in some fields. Both sudden death syndrome (SDS) and southern stem canker have been reported in soybean fields. Don't forget to sample fields in the fall for soybean cyst nematode (SCN), which can lower yields by itself and can increase yield loss when in combination with SDS. Information on how to sample and where to send your sample for free SCN process (funded by Tennessee Soybean Promotion Board) can be found at (utcrops.com/soybean/diseases – Nematode Sampling Form and Nematode Sample How To).
The usual foliar diseases, such as frogeye leaf spot (image 1) and septoria brown spot (image 2) have been observed and at higher levels in some fields as well as some foliar diseases that aren't as common in Tennessee such as Cercospora leaf blight (CLB)  (image 3) and target spot (image 4). While I observe some level of CLB and target spot every year in my research trials, this year I have seen CLB come in a bit earlier and in some varieties seen higher levels of target spot and defoliation associated with them. Also as reported in previous article (Soybean Rust Detected in Middle Tennessee) soybean rust has been and continues to be detected in Coffee County sentinel plot samples but at very low levels (<1%) and it has not been detected in any additional areas.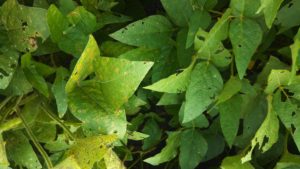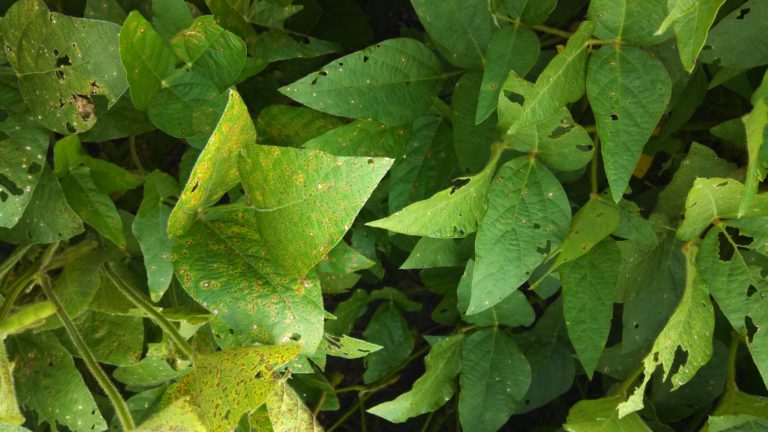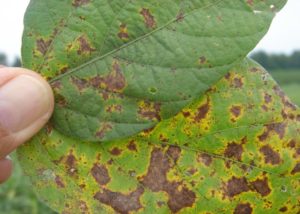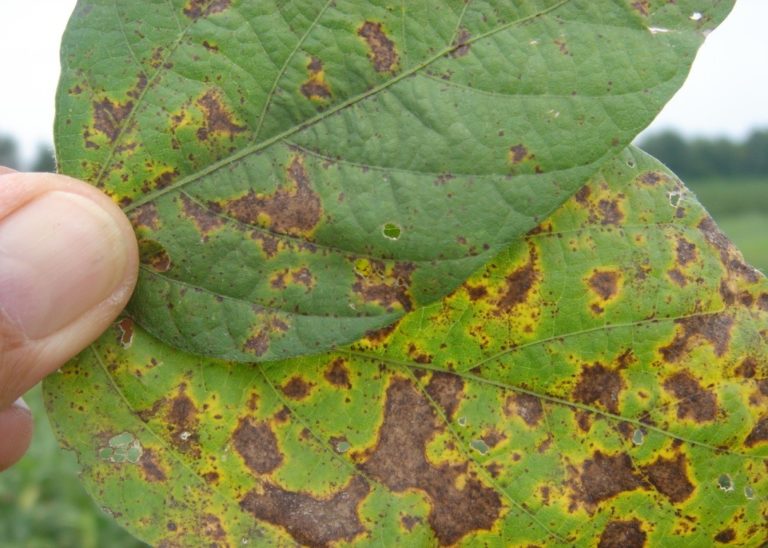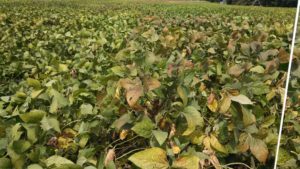 Fields that have received a foliar fungicide will have reduced levels of disease (dependent on the product, rate, coverage, and timing of application). Especially fields planted with varieties that had weaker disease resistance/tolerance. Particularly I believe a fungicide application significantly helped with what I considered secondary diseases in the lower canopy (septoria brown spot and target spot) which may be impacting yield this year due to the weather conditions. While septoria brown spot responds to fungicides it usually does not effect the middle and upper canopy and hence does not effect yield; but this year it has had the weather to help it climb into the middle and upper canopy of some varieties.
Considering target spot, so little has been observed in my research trials in the past that I've only rated one fungicide trial in 2014 for it. In general, based on that data and the preliminary rating data I've been taking this season from the variety trials (where there are sprayed and un-sprayed rows side by side) fungicide has very little effect in reducing target spot lesions.  Although, Priaxor (containing QoI/Strobilurin and SDHI components), Priaxor + Domark (a DMI/Triazole), and Fortix (now called Preemptor, containing QoI/Strobilurin and DMI/Triazole components) statistically reduced the most target spot lesions in the one fungicide trial in 2014, but target spot severity only ranged from 3.4 to 0.2 in this trial (on a 0-100% scale). I believe the amount of target spot that can develop and cause defoliation is highly dependent upon the variety and will be publishing target spot ratings in the 2016 UT Soybean Disease Variety Trial Summary that will come out this winter.
While nothing can be done now about the diseases in soybean fields it is important to know what diseases were observed this year to better plan for next year's season by selecting disease resistant/tolerant varieties and understanding which fungicide products may be needed to protect from diseases that varieties are weak against. Use the mobile friendly disease field guide at guide.utcrops.com and other resources at UTcrops.com to help identify diseases and learn about fungicides.