Below is an exact repeat of an article last year, actually on the same date, which is reminder that our first and second generation flights of southwestern corn borer (SWCB) tend to occur at the same time each year.
******************************
This is a reminder not to overlook corn borers, especially southwestern corn borer, in non-Bt corn. The second generation moth flight is starting. Overall moth catches have been low (click here for moth trapping data), but there are some obvious hot spots, and corn borer infestations can be very sporadic. I can't stress enough how important it is to run a few moth traps on your farms to make sure southwestern corn borer (SWCB) does not make a sneak attack. This is especially important in areas with significant non-Bt corn acres from one year to the next. Below are some general guideline for making treatment decisions.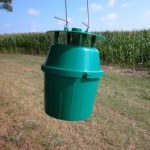 UT's recommendation for second generation infestations of SWCB is to treat when 10% or more of plants are infested with eggs or small larvae OR when moth traps catch more than 100 moths during the previous week. However, treatment is NOT recommended if ears are already at or near the dent stage (R5). Infestations starting after R5 should cause minimal yield loss provided fields are harvested in a timely manner to avoid lodging issues.
Insecticides recommended for SWCB are listed in UT's insect control recommendations for corn (link here). For second generation infestations, I prefer products that provide longer residual such as Belt (2 oz/a), Besiege (7 oz/a), Intrepid (6 oz/a), or Prevathon (14 oz/a). It is more important to use a longer residual insecticides in later maturing fields. These fields will be susceptible for a longer period of time.
Corn borer population will be well below economic injury levels in most non-Bt fields. Blanket sprays are not justified. This again stresses the need to run a few moth traps around your fields to make good management decisions.