With respect to burndown before corn planting it is getting late early!  There has been very little burndown applied to date and the forecast for the next couple of weeks looks to be wet.  Moreover, there has been some glyphosate-resistant ryegrss escape glyphosate-based burndown applications.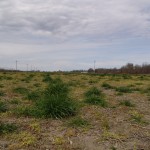 The likelihood of getting more than just a handful of days to apply burndown before the end of the month does not look promising.
A potential short turnaround time from burndown to corn planting is most problematic in controlling ryegrass. The options for glyphosate-resistant ryegrass are slim as they are only two. The first is sequential applications of Gramoxone applied about 10 to 14 days apart. The second option is Select Max (clethodim) mixed with glyphosate application.
If the Gramoxone option is used, consider adding a 1 lb/A of atrazine to the first application to help improve the consistency of control. As far as the Select Max option one most consider that there is a plant back restriction of 30 days for corn after a clethodim application. If burndown is further delayed there is a supplemental label for Select Max at 6 ozs of product applied no closer than 6 days before planting. Where ryegrass is small, the 6 oz/A rate of Select Max mixed with a qt of glyphosate works fairly well. On the other hand, for more well established ryegrass the level of control using that low rate of Select Max can be sketchy.
In the case of all other winter annual weeds, we can fortunately mix atrazine in with the burndown. Gramoxone Inteon or glyphosate tankmixed with atrazine or one of the premixes mentioned in the corn premix blog can provide a very effective burndown of even large existing weeds. If the field is likely to be planted to corn but may change to soybean or grain sorghum, then Verdict or Sharpen can substitute for the atrazine. Of the two, I prefer Verdict as it can provide residual Palmer amaranth control from both the group 15 herbicide (Outlook) and the group 14 herbicide (Sharpen). This is good for resistance management.