Sometimes it seems like all we talk about is bad news.  Well the good news is that cotton aphids were not a big issue in 2012, and for the most part, they have only occasionally cause problems in Tennessee during the last decade.  The bad news is that we have now confirmed that resistance to the neonicitinoid insecticides such as Admire Pro or other imidacloprid products, Centric and Belay is present in aphid populations in West Tennessee.  My counterparts further south have documented the same resistance over the last several years.  I was confident we were seeing a loss of efficacy in West Tennessee, but our aphid populations have been too low to really make resistance obvious.
The table below shows the results of a late season insecticide efficacy trial in Lake County, Tennessee.  There was heavy rain about 8-9 hours after application that almost certainly reduced control in all treatments.  However, a quick glance indicates that Admire Pro, Centric and Belay did not provide meaningful control of cotton aphids at 4 days after treatment.  Another neonicotinoid, Intruder, still performed reasonably well.  This is consistent with observations in Louisiana, Mississippi and southern Arkansas.  Aphids from this field were sent to Dr. Jeff Gore (Mississippi State University).  In a laboratory assay, Dr. Gore confirmed resistance in this population to thiamethoxam (e.g, Centric).  He did not test for resistance to the other neonicitinoid insecticides, although it was obviously present.  Dr. Gore also provided the image below when I asked him about my the assay results … it explained things very clearly!
Insecticide efficacy test on cotton aphids (Tennessee, August 2012)
| | | |
| --- | --- | --- |
|  Treatment (oz/acre) | Aphids / 10 leaves | % Control |
|  Intruder (0.91) | 117 e | 85 |
|  Admire Pro (1.11) | 976 a | -23 |
|  Centric (1.6) | 560 bc | 29 |
|  Belay (3.0) | 758 ab | 4 |
|  Transform (1.28) | 105 e | 87 |
|  Transform (0.8) | 121 e | 85 |
|  Carbine (1.92) | 159 de | 80 |
|  Dimethoate (12) | 396 cd | 50 |
|  Experimental A | 148 de | 81 |
|  Experimental B | 83 e | 90 |
|  Untreated | 793 ab | — |
 Means followed by same letter do not significantly differ (P=0.05, LSD)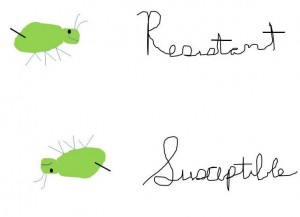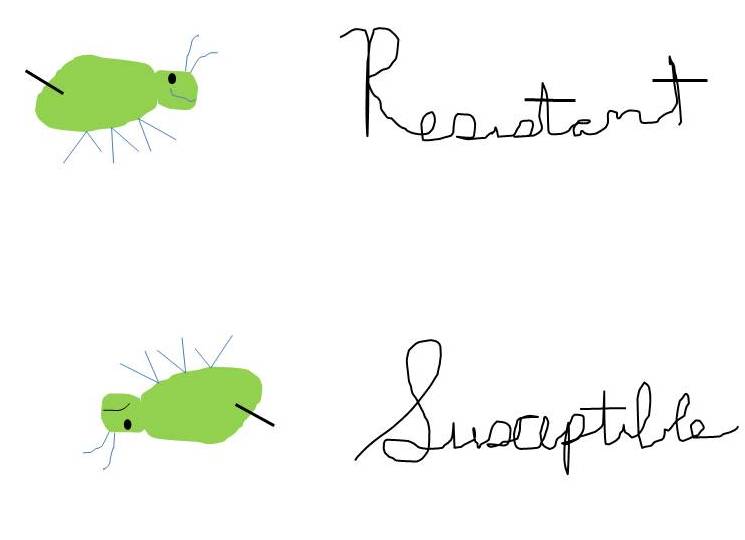 The occurrence of neonicitinoid resistance in cotton aphids comes as no real surprise.  We have relied heavily on this class of chemistry in seed treatments and for tarnished plant bug.  It will not be a game changer for Tennessee, but it does mean aphids problems in cotton will probably be more common in the coming years.  We can help manage this resistance by using chemistries with different modes of action such as Carbine and Transform.  Resistance is a major reason why we should use insecticide in a logical rotation and only as needed.  There are just too many people that have been using neonictinoid insecticides, especially imidacloprid products, like a surfactant because they are cheap.  Next up … plant bug resistance???