A West Tennessee Extension Agent reported treatable levels of fall armyworms showing up in some pastures.  Pastures greening up after the prolonged drought will be attractive to moths, and it is about that time of year anyhow.  Bermudagrass is especially attractive to fall armyworms, but other pasture grasses may also be at risk.  With the previous lack of forage owing to the drought, we need to protect this new crop.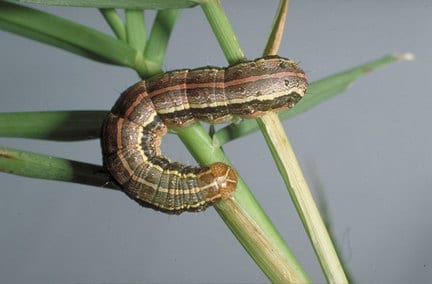 UT recommends treatment for armyworms in pastures when 3-4 larvae are found per square foot.  Any fields within a week of harvest can be cut rather than treated with insecticide (larvae will not feed on cut hay).  There are many good treatment options.  Several pyrethroids insecticides including Baythroid XL, Karate or Warrior II, and Mustang Max provide effective control and have short preharvest application restrictions and no grazing restrictions.  Other products that have short or no preharvest or grazing restrictions include Intrepid, Tracer, Prevathon and Besiege. A complete list of recommended insecticides and suggested rates can be found in the 2012 Pasture Insect Control Recommendations for Tennessee.
I sometimes get calls where people will say "I'm going to let the worms cycle through because most are pretty big."  This is usually a mistake because a larva will consume over 80% of its total food needs in the last few days before it pupates.